KCSIE 2020 has arrived! The new version of the DfE's statutory safeguarding guidance will become statutory in September, so here's a quick post to help DSLs with their preparations.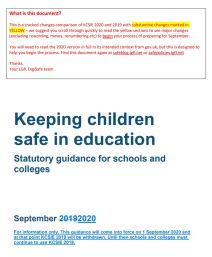 There's no alternative to reading it cover to cover, but we have made you a tracked changes document comparing 2019 and 2020, with substantive changes highlighted in yellow. That means you can quickly scroll through page by page to see at a glance the changes which are most likely to affect you.
Download our new document here to see these changes at a glance.
Remember that KCSIE itself always has the final appendix at the back to show where changes have been made, so check that when you read the original on gov.uk (you will need scroll down the gov.uk page as the new version doesn't come into force until September).
The DfE has stressed that changes have only been made where legislation requires it, or to provide needed clarifications or extra information.
You must look at all the changes, but a few that stood out to us were:
Covid and mental health form the bulk of the new information/ clarification sections.
Lots of new mentions of supply teachers throughout the document. Make sure your obligations are met when it comes to supply staff (e.g. allegations / SCR).
Addition of a 'terrorism' definition in a slightly expanded Prevent section.

Don't forget to help you with this area, we recently released a Counter-Extremism staff CPD resource focusing on the far right, and we also have face-to-face (currently online) Prevent training LGfL schools can attend. Event more self-service materials are at prevent.lgfl.net

Do your DSLs understand how social care functions? There is now specific mention of this in the training section.
The online safety paragraph 92 has an addition about keeping children safe online "including when they are online at home".

Lots of that will be about education and support for parents and families (see parentsafe.lgfl.net for some resources there).
In this context you may also want to think about technologoy, especially for vulnerable students, e.g. monitoring on devices (coming soon from LGfL; available now from many other providers), and now why not check out at LGfL's new Bridge the Divide project for low-cost devices in the home and HomeProtect for 4G devices and filtering for vulnerable pupils at home.
If you want to watch a video summary of the changes, Andrew Hall has made this 20 minute video overview of the new guidance. And if you would like to focus on the online safety aspects, Rebecca Avery from the Education People (formerly Kent CC) has made a document doing just that which you can get to via her blog here.