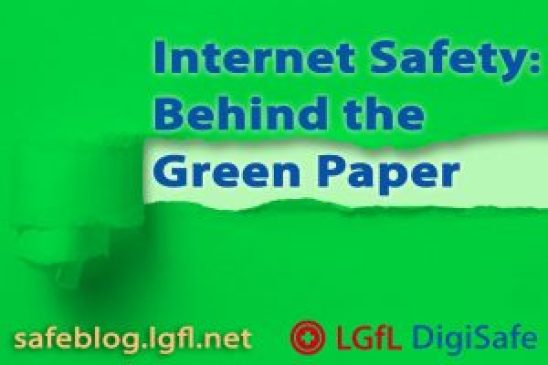 The Department for Culture, Media & Sport (DCMS) recently published a green paper (consultation) on the government's new internet-safety strategy, as part of the 'Digital Charter'. The education world normally keeps its eyes peeled for key documents from the DfE but pays less heed to those from other government departments, but this one will have a big impact on the future of online safety in homes, businesses and schools, so is very much worth a look.
The 62 pages of the green paper are very much worth a read and can be found here. The government is looking for responses to the consultation, and it would be good to hear as many voices as possible from the education sector. So if you haven't the time, find someone in your organisation to have a look through the lens of your situation and needs.
The consultation is for organisations and also for individuals (in fact, there are many more questions for individuals than for organisations), so why not try and get parents at your school to have a look and have their say. The questions make sense without reading the green paper, so encourage them to have a say to help shape their children's online lives – and why not suggest parents answer the questions together with their children as a great conversation starter?
As for the green paper itself, the principles are (lifted verbatim):
What is unacceptable offline should be unacceptable online
All users should be empowered to manage online risks and stay safe
Technology companies have a responsibility to their users
…and the priorities (again, verbatim):
Setting out the responsibilities of companies to their users
Encouraging better technological solutions and their widespread use
Supporting children, parents and carers to improve online safety
Directly tackling a range of online harms
So…?
Now nobody is going to argue with those aims or priorities, so you might be tempted to say "So what?". It is great news that the government is looking to boost internet safety, but it will impact on many areas of life, so have a look and make sure you can have a say. Here are just some of the things that stood out for me (not a comprehensive summary, not an official LGfL response, and indeed some might not even be good things from your perspective):
Great to see lots of mentions of and recognition for amazing organisations like the Internet Watch Foundation and other Safer Internet Centre partners, voluntary organisations, public bodies and private corporations too. They do amazing work, so it's great to see it flagged in a key document like this. Some great positive reminders that all is not ill…
UKCCIS is losing its second 'c'. The UK Council for Child Internet Safety will no longer be just for children's safety, but for internet safety in general. We currently sit on the Education Working Group of UKCCIS and look forward to seeing a more prominent role for this organisation which does amazing work already (e.g. sexting guidance for schools and much more besides).
UKCIS (née UKCCIS) will "streamline and target education and advice on online safety for parents" – that is great news and we can help there too (e.g. parentsafe.lgfl.net)
The social-media levy and code of practice are on the way. There has been lots of discussion about whether the levy is a good thing or not (some say of course; some ask if it might discourage organisations from the efforts they already make, which are not inconsiderable?)
A new Online Hate Crime Hub to streamline efforts to combat hate online.
The government will be looking closely at online gaming. Given the stories that we regularly hear of young children playing violent video games at age ratings far above their age (18 games aren't more difficult, they are given the rating for similar reasons as 18 films), that is also worth looking at.
Connected toys and the internet of things are to face scrutiny as well (to find out more about some of the risks and developments in this area, have a look at the blogs from John Carr, who keeps a close eye on these things).
A reminder that Relationships Education is coming for Primaries and Relationships and Sex Education for Secondaries. PSHE is still a 'maybe', but hopefully…
Other controversial topics get mentions too: revenge porn, fake news and age-verification of pornography (which is coming in next year).
It's good to see a mix of education, legislation and self-regulation – some you may like, some you may not. But have a look and see or say what you think…